Thank you for visiting BAMBI JEWELRY official website.
I would like you to introduce "katamu" collection in English.
Enjoy!
バンビジュエリー公式サイトをご覧いただきありがとうございます。
最近では海外にも人気が広がりつつある、katamu(かたむ)。
本日は外国のお客様に向けたkatamuのご紹介です。
Contents
About "Katamu" collection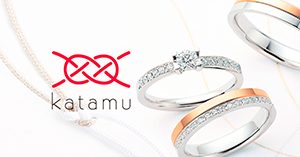 "katamu" is one of our wedding band brands, and we are proud of our history of a long-established Japanese watchband company founded in 1930.
We also take pride in the precious metal processing techniques such as forging.
"katamu" are made with great care by the method of "forging" at our modern factory in JAPAN.
"Forging" is a way to harden metals by beating with special machinery.
We believe these wedding bands are worth lasting a lifetime because of the material's strength and smooth finish.
Besides, we wish married couples' relationships are also strengthened and there are always strong bonds between them.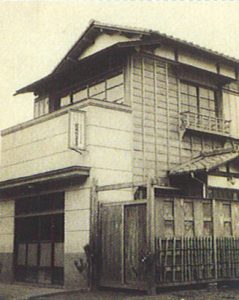 -THE BAMBI INC. in the 1940's Tokyo.
What "katamu" means.
"katamu"(固む)―a verb in classical Japanese― meaning "making something strong and hard".
Not only making something strong, but also being faithful to a promise, taking a firm pledge, and making a very tight knot.
At traditional Japanese wedding ceremonies, a newlywed couple exchanging "cups of sake to pledge" (in Japanese, "固めの盃" katame-no-sakazuki) is a wish for making marital ties strong.
What is "Forging"?
It is a method of heating and pressing metals to forge and cast them.
When metals are beaten, stretched and bent, they become harder. This is one of the properties of metals called "work hardening".
Special forged materials that have been applied high pressure are processed due to increase density, resulting in more brilliant and smooth finish.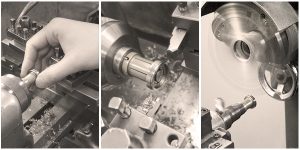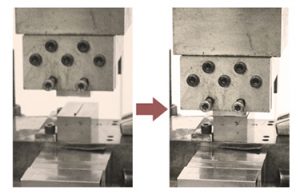 Features
Forging method
"katamu" are Crafted in our modern Japanese factory with forging method.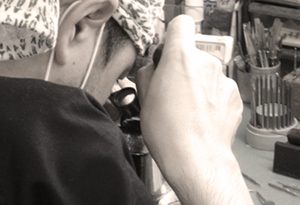 Selectable materials
You could choose ring material from the following list.
-Pt950
-K18YG
-K18PG
-K18HYG*
*HYG="Honey Yellow Gold" is one of our original metal.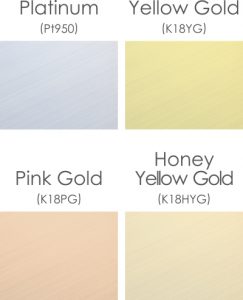 GREACIOUS DIAMOND
GREACIOUS DIAMONDS are used on the rings of "katamu" series.
This is the most brilliant H&C (Heart and Cupid) diamonds.
Skilled workers cut diamonds in the ideal proportion, resulting in making them more brilliant and radiant.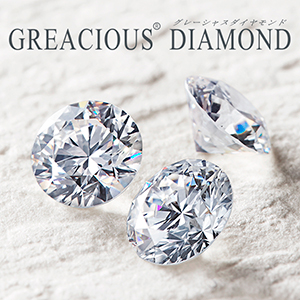 ※H&C (Heart and Cupid)…diamonds with 8 cupid's arrows on the upper side and 8 hearts on the back side. These arrows and hearts are a proof of symmetry and excellent cut.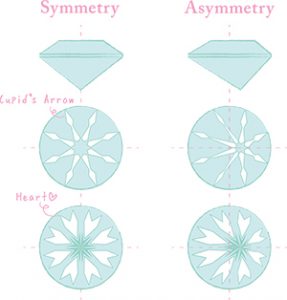 Beautiful Japanese name and story
Every ring of "katamu" series has a beautiful Japanese name and story.
Enishi, a most popular model, means "Fate and Fortune" in Japanese and twisted shape of two strings, representing the fate and strong bonds of a married couple.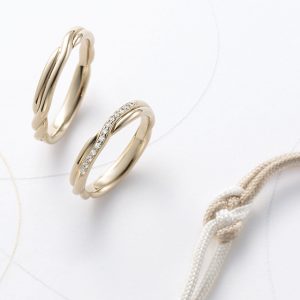 View more detail of "Enishi".
About the brand mark of "katamu"
A motif of carrick-bend ("Ayatsunagi" in Japanese) is stamped inside the "katamu" rings.
"Ayatsunagi" is a style of tying two strings and unique in having very strong knots.
This brand mark is designed by our wish that married couples' ties are always strong.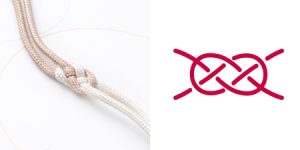 ---
"katamu" series makes your bonds tighter and stronger.
We hope you have an encounter with perfect wedding bands.
Thank you.
Special website for "katamu" >> katamu.jp (Japanese)
(All pictures shown are for illustrative purposes).